I teach a number of classes and in every class I get asked how important is it to be on Facebook, Twitter and LinkedIn.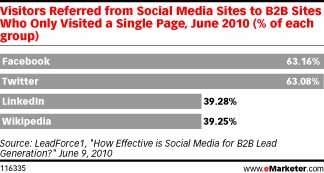 I advise students that they first need to work on organic search for their website – make sure that their website looks professional and then work on expanding into the social media outlets.  Many of my students worry about Facebook, Twitter and LinkedIn and how they can manage so many sites and still run a business.  A recent report on Emarketer.com shows that in the B2B industries these mediums might not be as high on the list of sites to manage as making sure your own business website is bringing in organic traffic.
"While many business-to-business (B2B) companies have gotten turned on to the value of social media marketing and find it helpful for tasks like prospecting and lead generation, inbound social marketing for B2Bs may leave much to be desired.
A study by lead generation solutions provider LeadForce1 examined the behavior of visitors to B2B Websites who had been directed to the sites from social media, including Facebook, Twitter, LinkedIn and Wikipedia. Visitors from the top social sites were generally uninterested in product or contact pages, suggesting they were not in the market for the company's products or services."
My feeling is that you should have a presence in all of these sites, I certainly see traffic coming from both Twitter and LinkedIn to the Maia Internet Consulting website and know that they have brought us business, however the most traffic still comes from our organic search results.
Read the full article at Emarketer.com
There are a number of clients I work with where I manage renewals of their domain name.
Recently a letter was send from Domain Registry of America informing a client that their domain name was going to expire, they passed the letter onto me so I could take care of it for them.  This domain was registered through GoDaddy.com and does not expire until October.  The letter asked that a reply and renewal be sent by June 28th.
I just want to warn people that letters like this are a way to have you transfer your domain name to another company.   If you read the small print it will tell you that this is to TRANSFER and renew your domain.  Please don't fall for these unless you really want to switch your domain registration to another company – the cost for one year renewal with Domain Registry of America is $30.00 your domain renewal through GoDaddy will be around $10.00 for the year.
If you are not sure where your domain is hosted, or are confused by a letter you can go to http://www.whois.net and enter in your domain name.  The results will give you the registrar for the domain along with the renewal date.  You can then make an informed decision as to if you need to renew or change registry companies.
Need help finding keywords to add to your blog posts?
Here is a great blogging tool from Wordtracker.  You can compare words while you are editing your posts, see how many times you have used a keyword and do a little research without having to forget your train of thought.  It is quick an easy to add it to your Firefox browser.
Download it now – it's completely free.
This recently came across my email and I know that many clients are looking for information on how to customize Google Analytics and track and set goals.
Here is the recent email sent from Google Analytics
Analytics Intelligence with Custom Alerts
Using an algorithmic driven Intelligence engine, Analytics Intelligence monitors data patterns over daily, weekly and monthly periods. Significant changes in data trends and insights you may not have noticed are surfaced directly in your account. You can also create your own Custom Alerts that monitor your selection of dimensions and metrics that can be sent by email or displayed in the Intelligence reports. Read more
Print out or view online the information for the Unjob Fair presentation on May 1st, 2010 at Colorado Free University.
Print Local Listings Seminar (pdf)
All our classes are structured toward the complete beginner so if you don't know anything about these topics this is a great place to start.  Even if you have some knowledge things are always changing so there is always something new to learn.
Here is a list of our upcoming CFU classes for 2010 – check with CFU to see that they are still going on and please register ahead of time as we have both a max limit of 10 and min attendance of 2 for the classes to run.
A Crash Course in Local Search
Understand why Local Search is different from General Search.  Figure out where to list your business and come away with lots of other directories to get listed beyond Google.
Read more
A new chart out today by Marketing Sherpa shows that 39% of businesses find local search highly effective, while another 34% find it somewhat effective, so 73% of businesses are pretty much reporting that Local Search is working for them.  (Click images for larger view.)
For those that are not really aware of what Local Search is here is a quick look:
Local Search is any search made with the goal of finding something within a geographic location.  This is known as searching with local intent.
Local Search is searching for something (what) in some place (where).
Local Expert, Greg Sterling, defines Local Search as seeking information online with the intention of making a transaction off line.
Essentially, anything that you would traditionally look for in the print Yellow Pages becomes a Local Search which it is conducted offline.
Local Search in Google shows up in the map when you search for something in an area.
Other search engines have a similar results and need to be submitted individually.  If you are on Google Local Search you will still need to make sure you are on Bing and Yahoo.
The client in the example above, Swim Otters, had claimed her listing on Google Local but was still not showing up in the results for Swim Lessons Westminster, CO.  We worked on her listing to help her come up for various swimming searches in her area and removed duplicate entries for data integrity.  Simply claiming your listing does not mean you will show in the results.  Working with a search professional can make a difference.
Learn about Local Search in an upcoming class I am presenting at Colorado Free University on April 10th, 2009 from 9am – noon.    Cost is $57 for non-members of CFU and $45 for members with a $10 materials fee.
Click on the following link to sign up:  Local Search Class
I recently had the pleasure to present to the Denver Entrepreneurs Meetup group at the Englewood Library.  Thank you to every who attended.  Here is a copy of the slide presentation.
Optimization your online video is just as important as optimizing your home page and interior pages on your website.  Recently comScore reported in their September 2009 U.S. Search Engine Rankings report, that YouTube is the second-largest search engine, higher than Yahoo or Bing accounting for 3466 mm searches in  September 2009, so creating online videos and having them available on YouTube should be part of your online marketing strategy.
I get asked a number of times about adding video to a site, many clients want to stream directly on their own site.  This is possible with WordPress and can look really nice and will increase the 'stickiness' of your site, keeping people engaged longer.  However, to gain any kind of recognition for your video in the search engines they should be on YouTube. Read more
These upcoming events are a great way to meet people and learn something at the same time.
Wednesday, October 14, 8:00 to 9:00 a.m.
Perkins Restaurant, 1459 Simms Street, Golden 80401
Sales Expert Marty Wolff of the Posidyne Group will speak on the topic of "Selling for the Non-Sales Person". Support Perkins Restaurant by purchasing coffee and or breakfast before coming into the meeting.
$5.00 advance online registration or $7.00 cash or check only at the door RSVP required.
Contact:  Sharon Gibson- sharon@make-it-fly.com or (720) 514-0623
Wednesday, October 21, 8:00 am to 9:00 am.
The Egg and I, 8025 Sheridan Blvd., Arvada 80003 Read more