I have been getting a few questions about the +1 button people are seeing in the Google search results, both in the ads sections and the organic sections.  Here is a letter from Google that explains it in good detail for the adwords clients.
If you would like us to add the +1 button to your site, just give us a call.
If you have been maintaining your own plugins then you can install the +1 button with a plugin on your site, Google +1.  However, before installing another plugin check to see if your current Social Sharing plugin such as SexyBookmarks has the Google + included.
The Google+1 button is similar to the Facebook Like button, it is part of Google's efforts to advance in the Social sharing environment.  You can read more on it on Google's page at +1 Button.
Dear Subscriber;
In the coming weeks, your search results and ads on Google will include a +1 button, which users can click to recommend your ads. You don't need to make any changes to your account in order to take advantage of them. The final landing page URL of your ads can also appear on the Google profile of any user who +1's your ad.
Here's how the +1 button works:
Let's say you own a hotel in Madrid. Brian had a lovely stay at your hotel last summer. When Brian starts researching accommodations for his next trip to Spain, he searches on Google while signed into his Google account, and sees your ad. He clicks the +1 button on the ad to recommend it to his contacts.
When Brian's friend Ann plans her trip to Spain, she signs in to her Google account, searches, and also sees your ad – plus the personalized annotation that Brian +1'd it. Knowing that Brian recommends your hotel helps Ann decide where to stay during her travels.
Think of the +1 button as a way for fans of your business to recommend what you offer, for all their friends and contacts to see. By helping searchers see more personal, relevant ads, we believe you'll see more qualified traffic. You can also add the +1 button to your site to give your customers the opportunity to +1 your site after visiting it.
Sincerely,
The Google AdWords Team
There are lots of options out there in regards to adding a feed reader to your WordPress website.  Depending on how you want to track and what feed readers you want to offer to uses at the click of a button will depend on which subscribe plugin you use.  If you are using onsite video I would also check out the Tentblogger Viemo Youtube rss embed plugin listed below.
Tracking Subscribers.
Feedburner.com –  Now owned by Google it is a service that will track sign ups.  It also keep a track of the email addresses for the people that are subscribed to your feed.  If you are new to Feedburner then use the new Beta version it can give you a lot more information.
Feedage.com – Tracks people signing up for your feed on other feed readers such as myyahoo, google etc.  Use the feedage tracker plugin with this account.
What are RSS Feeds?

RSS is the abbreviation of Really Simple Syndication.  What it is simply, is a document of your website that is created by your site software in a format that is able to be read by a feed-reading program.  Your website is built in such way that a web browser can read the information on the site and that is what you see when you visit the site in a browser such as Internet Explorer, Firefox or Safari.  The RSS feed is just another format of the website content that can be read in a different way.
When you look at the raw rss feed it has all kinds of code like pieces to the information.  These code tags tell the feed reader what that content is and how to display it in the feed reader.
One of the great benefits of RSS feeds is that rather than having to go back to a website to read the new content that has been posted a person can subscribe to the site via a feed reader and read it with their other feeds from other sites in a mobile device, on their browser or in any other feed reader.    T his makes it a lot more efficient to keep up on a number of blogs and websites.
Where can you get a Feed Reader?
You probably already have access to a feed reader.  There are both mobile feed readers, desktop base feed readers and web based feed readers.
Mobile devices such as smart phone have an app for reading feeds.  Take a look in your phones app directory and search for RSS reader.  There will be a number to choose from.
Another way to read rss feeds is by a web based feed reader.  Services such as Google Reader   (instructions on how to use Google Feed Reader) , Bloglines, MyYahoo  & , MyMSN  all allow you to collect feeds from various sites and go to one site to read them all.   The advantage of using a webbased service is that you can read your feeds from any computer and when you change machines you still have all your feeds in one place.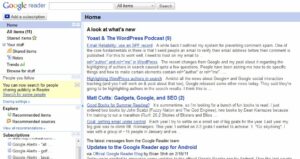 Client based feed readers – programs that you add to your home or work computer that allow you to read feeds are available.  Microsoft Office has a feed reader in the left side or your folders look for the folder marked RSS Feeds and follow the get started instructions.   On the Mac mail also comes with a feedreader.  Check out a Comparison of Feedreaders on Wikipedia.
Signing Up for a Feed:
A WordPress website generally has a feed reader built into – just type in http://www.yourwebsiteaddress.com/feed to find your feed.
If you are on a site and want to subscribe to their feeds take a look for something to the effect of Sign Up for our Feed, or look for the orange Feed Reader icon that shows a feed link.
With the launch of WordPress 3.0+ we now have the option of making WordPress work more like a CMS by creating and using our own custom post types.
Jayson and Liz will present on both custom post types and custom fields, when to use them, how to use them and how they work.
After a short break in the last 50 minutes of the meeting we will come back and create a custom post type and some custom fields and output the content to a website.
So, bring along an idea for a custom post type you might want to build, along with the fields you will need to create and the information to access the website you want to add the custom field too. It could be a movie database, event calendar, recipe database, mp3 database…. the ideas are only limited by your imagination (or your clients imagination.)
MeetUp Document:  WordPress_Meetup_Jan_2011
Need help finding keywords to add to your blog posts?
Here is a great blogging tool from Wordtracker.  You can compare words while you are editing your posts, see how many times you have used a keyword and do a little research without having to forget your train of thought.  It is quick an easy to add it to your Firefox browser.
Download it now – it's completely free.
All our classes are structured toward the complete beginner so if you don't know anything about these topics this is a great place to start.  Even if you have some knowledge things are always changing so there is always something new to learn.
Here is a list of our upcoming CFU classes for 2010 – check with CFU to see that they are still going on and please register ahead of time as we have both a max limit of 10 and min attendance of 2 for the classes to run.
A Crash Course in Local Search
Understand why Local Search is different from General Search.  Figure out where to list your business and come away with lots of other directories to get listed beyond Google.
Read more
A recent question from Fairminder on the Tweetworks – All Things WordPress group said; "Looking for WordPress sidebar widget that will allow unique content in sidebar on each page. Don't want same content in every sidebar." –  inspired me to put together a short tutorial on how to create multiple sidebars in your WordPress blog.  While I don't suggest that my writing skills will win me any awards I quickly put together this pdf to help people that have a little bit of knowledge of how templates work in WordPress to help show how to add multiple widget enabled sidebars to a blog.
Creating Multiple Sidebars In WordPress (pdf)
I have used multiple sidebars on a few sites and they work really well to display different content on different pages.
A couple of example are on the following sites:
Just let me know if you run into problems, or leave a comment if you have found an easier way.