Search Engine Optimization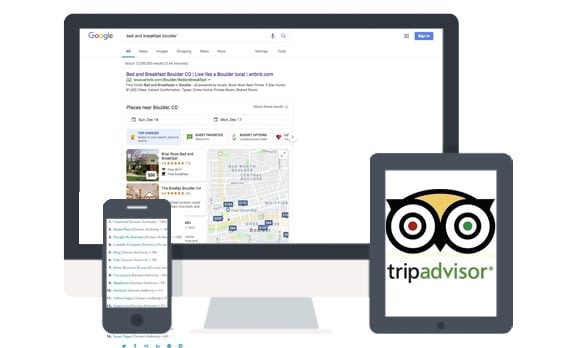 Our online marketing plans include a number of different options with both on-page and off-page optimization. Through a mix of blog outreach, magazine subscriptions, backlink, directory submissions and other rank building activities we help your business capture a bigger audience.
We suggest an ongoing monthly plan which includes blog creation, meta optimization, directory updates and fixing broken website links.
Pricing
A custom quote will be created after initial consultation of services needed.
Email Marketing
Email marketing for hotels and bed and breakfasts has proven again and again to bring results if it is done on a regular basis. We find that our best results come when we tie an email campaign into giving information about the area, or a property promotion or news. We see big spikes in traffic to the website during this time and an increase in bookings. It is a great way to stay in touch with clients on a regular basis and keep your fresh in their minds when they are looking for that next getaway.
Consistency is the key to successful email marketing campaigns.
Pricing
Pricing is $225 per newsletter and includes all the design, content and social media promotion. Set up fees for new accounts are $300 per account.
Paid Search (PPC)
Our pay per click team has been able to save money for our clients by just evaluating the keywords they are bidding on and the ads they are running. If you feel like you are not getting the return on your investment or that Pay Per Click is just not working for you then we can evaluate your campaigns and give you feedback and let you know if we are able to help. We have found that many times PPC accounts are created and left to just run, we often find negative keywords that cost you money with no return. If you are new to PPC we will set your accounts up for success and help you keep on top of your ads and keywords. PPC accounts can be turned on or off depending on the need for guests.
Pricing
Monthly management fees start at $500 and we suggest a min. budget of at least $500 per month per account.
Foundation Marketing Plan
After many years of working with various clients we have found that a basic foundation plan can be a great starting point. Our monthly Foundation Plan includes the following items to keep your marketing on track and consistent.
1 Newsletter blast
4 weeks of Social Media posting, 6 posts per week
1 Blog post created from original content with relevant keywords
Basic SEO site maintenance, fixing 404's, updating meta tags, adding H1's ect.
Directory listing review, building inbound links.
Monthly WordPress maintenance, security updates and backups.
Hootsuite account
Google analytics report
PPC Dashboard and reporting
30-minute monthly team meetings to set expectations and plan content strategy.
There are times where a set plan just does not work for some clients and we are happy to look at your overall needs and create a custom plan for you from our various products.
Simply contact us for more information on a custom plan. No contracts, just great service.